I consider a big part of Becoming Elli to be taking on new challenges. Some are physical, some are mental. Some, like the veggie challenge, are habits.
As some of you know, I live in Summit County, Ohio, USA. By the name of it, you might think we are located on the top of a mountain, but in my county, the elevation peaks at just over 1,000 feet (325m) from sea level.
So when I had the opportunity last weekend to visit Utah and do some outdoor activities, I figured the higher elevation of around 7,000 feet above sea level would give me some challenge. And it did!
But it was the mental challenges that really gave me a bit of a work out!
Glad I've been working on "Becoming Elli" so I could enjoy the new challenges.
Hiking in the Mountains
I like to walk. I like to ride bikes. And I like to *hike* but there are usually disclaimers when I tell someone I like to hike. As frequent readers know, I am careful not to let my Achilles tendonitis or my piriformis act up to avoid injury.
This hike was a challenge due to the trail being loose and rocky. It was considered an intermediate hike.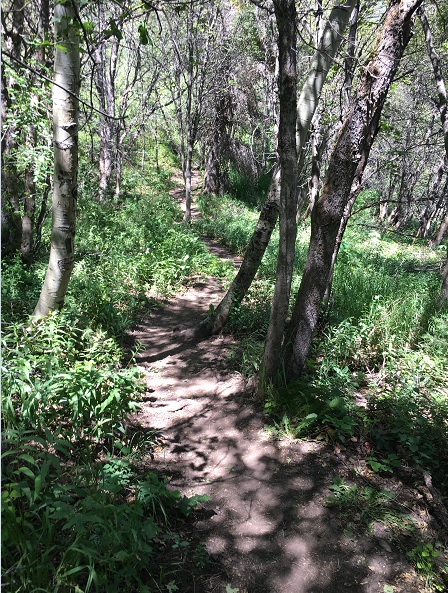 I know that some hikes can turn into mountain climbing. Some are too fast paced for me. I took my time with this hike, stopping often to take photos and drink water.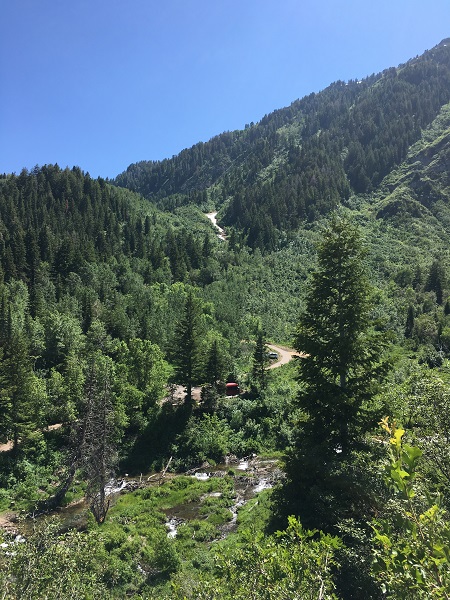 I hike at a pace that some people might define as window shopping. Taking an intermediate trail was a bit challenging for me, so I took it at a window-shopping pace last Saturday when I hiked to Stewart Falls and back. Seeing the majestic scenery did feel like window shopping!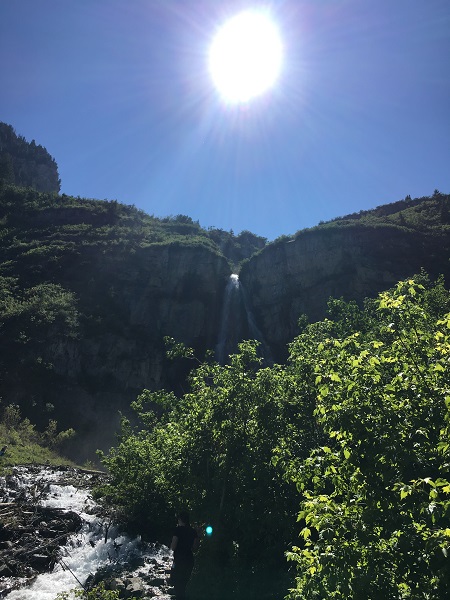 The elevation was higher than my body is used to and I tried my best to drink lots of water. Staying hydrated was a challenge. I drank 25 ounces of water during the hike and the hike definitely included heavy breathing, even with my fitness level.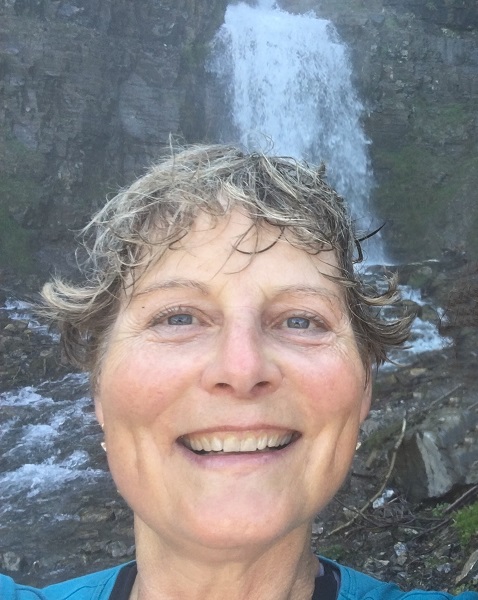 Distance: 2.4 miles Elevation Gain: 672 feet (starting at 6880 elevation in the parking lot) Route Type: Out & Back The link is the trail that someone saved on the mapmyride app. Very fun and challenged my fitness level for sure!
The other challenge was not so much fitness-related, but was definitely going outside my comfort zone!
Zip Lining in Utah
Getting strapped into zip line gear felt a bit awkward, but I was glad to see the equipment holding me onto the cable was heavy duty.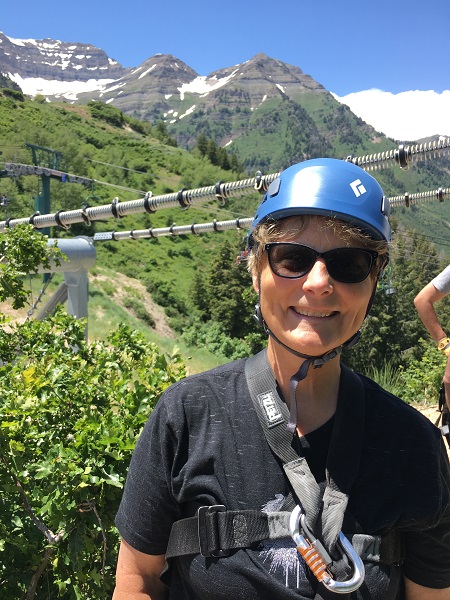 The first zip was a short one to practice and gain confidence. That first moment of just hanging does take some courage.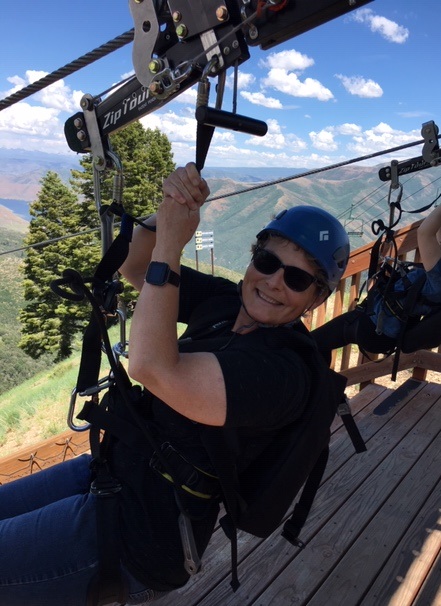 While we were very high up, it was almost surreal and I think that is why I didn't feel the anxiety I expected.
In all there were 5 different zips and each one was a little higher and longer than the last.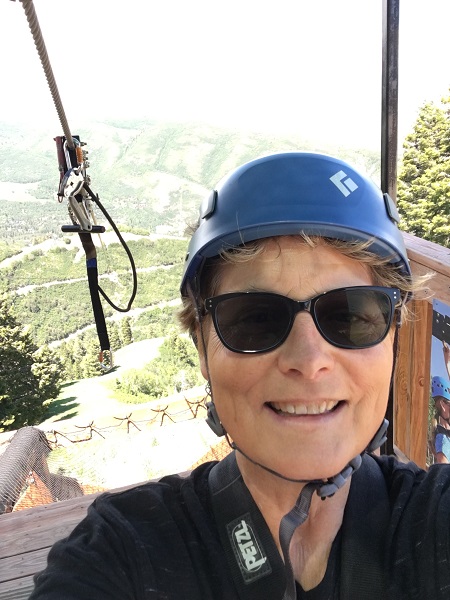 During the last zip down, while enjoying the scenery, I found myself holding my breath and had to remind myself to breathe!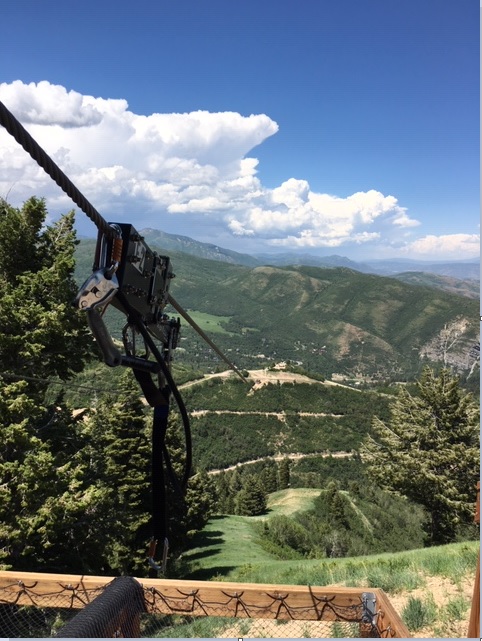 I knew I would be zip lining for about a month and a half. I wondered how I would react when it was time to actually do it. New challenges met!

Have you ever challenged yourself outside your comfort zone? Wondered if you would actually have the courage when it came time to do the new challenge? Tell me about it. Leave a voicemail at 1-330-970-6662 or send an email to me at Chris@BecomingElli.com. Let me know what you did, where and how you felt before and afterwards.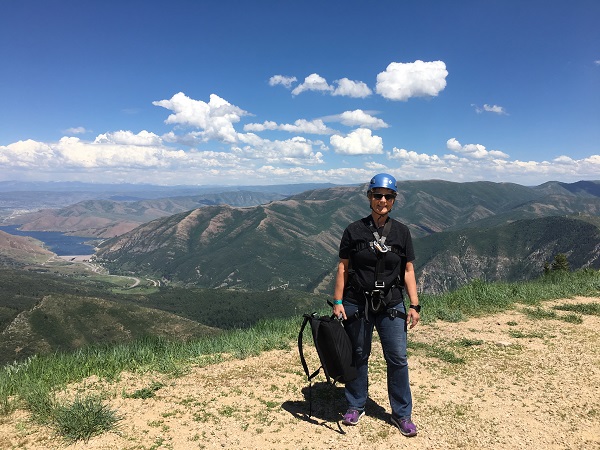 .