Last weekend I went on a getaway trip with my husband to enjoy the beautiful fall season in Ohio and Pennsylvania.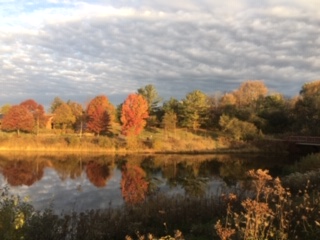 Viewing the red, yellow autumn leaves, spending time together while driving along the beautiful Pennsylvania countryside was refreshing for the spirit.
We both enjoy genealogy and tracing our family tree, so we spent quite a bit of time wandering around in small town and countryside cemeteries researching our ancestors and looking for clues.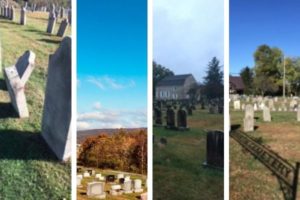 Many of the stones in the cemeteries were from the 1800's and were weather worn. It was difficult to read the inscriptions in some of the grave markers. I find that checking out the cemeteries is harder emotionally than just looking stuff up online in the census, birth and marriage records.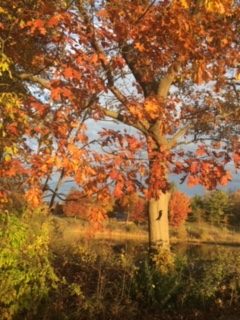 Sun shining on the leaves provided a cheerful alternative and gave balance to the seriousness of walking around in the graveyards.
The biggest challenge for me during the trip with car traveling is trying to eat healthy. Junk food abounds when you are riding on the turnpike. Here are some of my challenges and how I tried to overcome them.
Healthy Food
Car trips usually start out with the food we've packed. Fruit travels pretty well, but I always underestimate by bringing only a few items. Note to self – pack more good snacks in the little travel cooler next time.  After the hours and miles added up, it was time for a break.
Turnpike service plazas are very convenient for taking a short walking break, restroom stop and a quick snack. Convenience is the main thing. You don't have to get off the turnpike and then drive all over the country side to find a gas station or something that will work. Plenty of well marked parking. The bathrooms are clean and plentiful.
The big challenge is finding healthy food!
So often those stops include many choices, but they are all questionable. Most everything is deep fried, or covered in cheese, filled with sugar or in a bag with a giant list of unpronounceable ingredients.
The food court: Starbucks, Popeyes, Burger King, Hershey's, Famili Pizza. Each choice had the same thing in common – saturated fat, lots of sugar, no vegetables. Thinking back to my Weight Watcher days, I calculated some of the points as more than one day's worth in a single serving. Getting my veggies was a super challenge here! A few mushrooms and some green pepper slices on a pizza was the closest thing to a vegetable… and that didn't even contain enough to count as a full serving of one vegetable.
Three good choices:
We opted to go to the convenience store section of the plaza and buy almonds, apple, banana and orange. Fruit and protein snacks worked, but still, I was missing my vegetables.
I brought my own water bottles for the whole trip, because I knew it would be pricey and maybe not available when I needed it.
Near our hotel over the weekend we found a Panera where they had their fall food menu. I enjoyed the butternut squash soup and a warm grain bowl of veggies, brown rice and quinoa. I forgot how much I like their pumpkin spice soup.The grain bowls are new to me, but reminded me of a Cobb salad but substituting rice and quinoa instead of croutons and bacon. Also no iceberg lettuce either, just a little bit of arugula. I had the Mediterranean Warm Grain bowl.
Walking
Hours in the car helps you get to the places you want to see. The downside of many miles in the car is stiff knees, creaky back and that mind-numbing feeling of still moving when you are actually stopped. Getting out of the car for doing short hike or walk breaks made the trip fun and kept my joints happy. We reminisced about all the trips we did in our 20's from Rhode Island to Ohio and back in a weekend.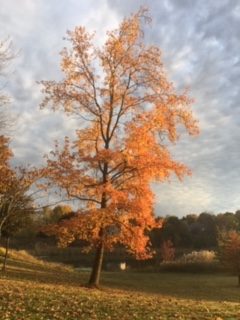 Having my FitBit tracker reminded me that I never got my 10,000 steps on either day of the trip, but reaching three-quarters of my goal wasn't bad, considering all the miles in the car. Each hour the FitBit reminded me with a little buzz on my wrist that I didn't get enough steps while I was sitting in the car.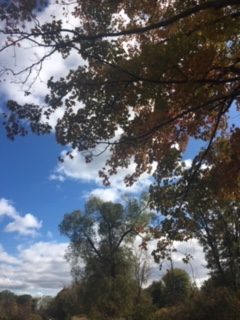 I can't say that this was a weekend of exercise or of healthy eating, but I did enjoy spending time with my husband seeing the beautiful fall leaves and doing a shared hobby.
How do you exercise and eat healthy during a weekend road trip? Share your suggestions with me a Chris@becomingelli.com, on our Becoming Elli voice mail 330-970-6662 or leave a comment below.