My new favorite thing is making hard boiled eggs in the Instant Pot. I like hard boiled eggs because they're good for a snack and can be added to a salad. I also make deviled eggs once in a while.
Why do I keep posting things about using my Instant Pot? I like using it because I can walk away from it and not have to worry about something boiling over on the stove or basically paying attention to what's cooking. If you do a search on this website for Instant Pot, you'll find a number of different recipes. We also discussed this on the Fit Strong Women over 50 Podcast, Episode 112 FAQ – Ask Us Anything with Chris and Jill 
It's not hard to make hard boiled eggs on the stove but once again I think it's just a bit easier using the Instant Pot. It's not faster at all but still easier.
This is really easy. Put your eggs on the wire rack in the Instant Pot and then add a cup of water.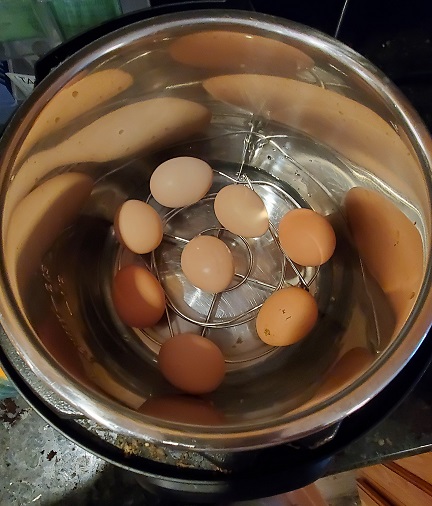 Put the lid on, being sure to move the knob to pressure. Using the Pressure Cook setting, set the Instant Pot for five minutes.
It will take about five minutes for the Instant Pot to come to full pressure and then five minutes to cook. You can then release the pressure after about five or ten minutes.
Put the eggs into a bowl of ice water to stop the cooking.
You then have perfectly cooked hard boiled eggs.
If you want soft boiled eggs or medium boiled eggs, just reduce the time. I would think 3 minutes for soft and 4 minutes for medium.
Let me know if you make hard boiled eggs in the Instant Pot or if you have any good ideas on things to do with the eggs no matter how you cook them. I'd love to hear your ideas.