Recently, I did my first triathlon of any kind. I was nervous about it, mainly because I thought it was likely that I'd not be able to finish it. Fortunately, I did finish and ended up being happy over the results.
Indoor Triathlon Set Up
This indoor triathlon was set up for:
10 minutes swimming in a lap pool
25 minutes riding a stationary bike
20 minutes running on a treadmill

Indoor triathlons are probably easier than outdoor ones because the swimming is in a pool instead of open water. There are no issues with weather or having to figure out where you're going. Also, it's a great advantage to be able to kick off from the wall every time you turn direction in the pool. The bikes are easier because you don't have to watch the road or deal with hills. Same with the treadmill. You just set it to the speed you want and there you go.
The pool is a 25 meter lap pool. There were four lanes in use and most of the lanes were shared by participants.
The bikes were in a studio class room, so we were isolated from the rest of the gym. Music was playing and people were cheering each other on. It was a fun, supportive atmosphere.
The treadmills were set up in the main cardio area of the gym. No special music was playing and I had not thought to bring my headphones.  My fancy AfterShokz Trekz Air bone conduction headphones were sitting in my gym bag so they were on the premises but no time to get them. So, no inspirational playlist for me! Also, the TVs were on and not set to anything special. Sunday morning TV is not conducive to much, if you ask me.
My First Indoor Triathlon
I was nervous about doing this indoor triathlon because I only started training a short while ago. I've spent a few months dealing with piriformis and sciatica problems. In other words, I've had a lot of pain in my lower back, right hip, and right leg. Once it began to clear up, I started training again and then decided I'd do the indoor triathlon. Just to be clear, I was pretty active before this hip/lower back issue flared up and managed to do some exercise while dealing with the pain. I just wasn't in competitive shape, I'd say.
Things I kept saying before the race were
"I don't know what I was thinking."

"I'll probably be last in everything."

"I probably shouldn't be doing this"
Where were those positive thoughts I'm supposed to be saying to myself? I guess I still need to work on that.
Chris came to take pictures and cheer me on. What a great friend! Having someone encourage me really helped.
Of course, you know how this goes. I ended up being very happy with my results even though I was pretty close to being last in everything. My performance was better than I expected.
Swim
I managed to swim the full 10 minutes without too much stopping though I really became winded during the swimming. Having to share a lane was challenging. Also, being a in a pool full of people trying to swim quickly makes for much more turbulent water than usual. I'm not used to thinking about speed when swimming, so I was glad to be able to put my feet down and take a quick rest at the end of a length.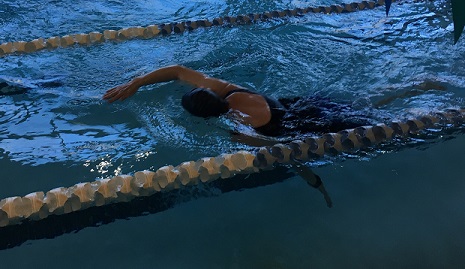 Bike
The bicycling wasn't too bad. I knew to set the resistance at a high enough level so that I'd get some mileage. I'd heard stories about people setting the resistance to the lowest level and then pedaling like crazy only to end up with very little mileage. I tweaked the resistance occasionally during the ride based on how I was feeling and how much time was left. Having music and being able to encourage each other was great.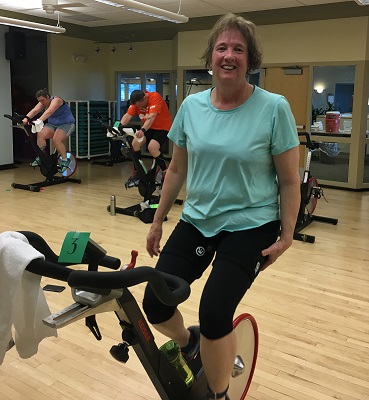 Run
Running surprised me. I've been doing my Couch to 5K app and so hadn't run for any consistent time for several months. I didn't go for speed, but I did manage to run the 20 minutes with only two walking breaks. I was on a treadmill between two young women and was able to keep an eye on what they were doing. One ran at a faster speed but walked more frequently. The other was running at my speed or slightly higher. I liked not feeling like a true slow poke. We all ended up with very similar mileage by the end. I know we're not supposed to compare ourselves to others, especially people a few decades younger, but it was a race, you know?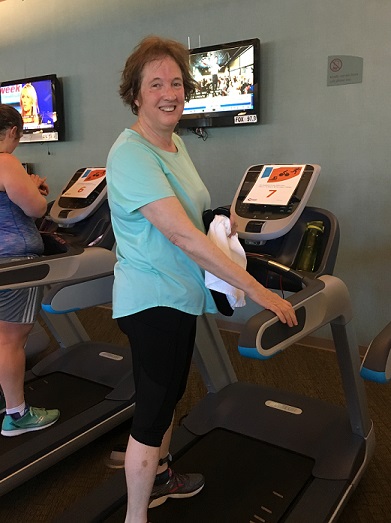 Transitions
Let's not forget the transition times. Those are the periods of times between events where you get ready for the next one. We had ten minutes to get out of the pool, change, and get to the bikes. Between the bike and run, we had five minutes. Handling transition times in any triathlon is a challenge.
Here's what I learned. First, it's really difficult to get out of a bathing suit and into biking and running clothes quickly. I got stuck trying to put on my sports bra because my skin was damp. A woman in the locker room helped me get it down my back. Lesson learned: don't wear a pull-over sports bra. I see why the outdoor triathletes wear clothes under their bathing suites.
I forgot to use the restroom during the initial transition time because I was hurrying to get to the bike. So, when I got to the second transition, I ran to the restroom, hoping to avoid a line. Success! but then I had little choice on treadmills so ended up with one that was between TV screens set to Fox News and ESPN. I really missed my headphones.
My Results
By the time I finished, I was sweaty, tired, but also exhilarated. Hooray! I completed my first indoor triathlon. Success!
Chris spent the whole event cheering me on, taking photos, talking to people and encouraging them too. She made the event even better.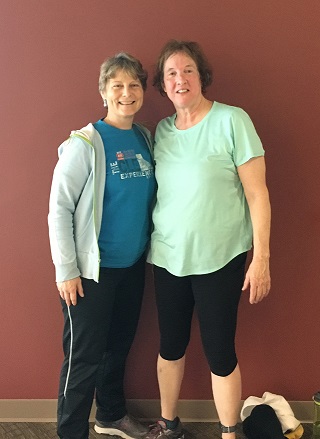 Results weren't released until later that evening. I received an email with a copy of the spreadsheet.
Here's how I did:
Swim 10 minutes:  12 lengths
Bike 25 minutes: 6.3 miles
Run 20 minutes: 1.48 miles
I won for my age in the first triathlon division. Pretty good! Well, you know there weren't many women who fit in that category but a win is a win, I guess.
Thoughts on the Race
Here are my thoughts on the 2019 Summa Health Wellness/Vertical Runner Indoor Triathlon. It was well organized and everyone working the race was super encouraging.
There was someone in the locker room to make sure we knew how much time we had and that everyone found their way to the pool and the bikes.
Having a monitor and music in the bike area was great. I h getting my bike set up and appreciated having someone there to show me the way to work the bike.
I think the only negatives that I had were the TVs on talk programs in front of the treadmills and no music in the running area. Or, I wish I had realized I need my headphones.
The price of the race was low. As a result, there's no shirt or whatever, but we did get a fantastic USB-chargeable bike light. That's something all triathletes can use. The man organizing the race said it's a great event for first-timers, so he likes to keep the price low to encourage them to participate. That's a good goal.
Overall, it was a great event and I'm likely to do it again next year.
There are a few more videos you can see on the Becoming Elli YouTube channel. Check them out!