Episode 88
Download | Play in New Window
Please Subscribe: Apple Podcasts  (iTunes) | Google Podcasts | Amazon Podcasts | Android-Google Play | Audible |  Stitcher | Player FM | Castbox | Tunein | Spotify | RSS
In episode 88, Jill and Chris talk with Chad Austin, the owner of Priority Fitness in Overland Park, KS, and author of the book series, "Make Fitness A Priority."
He has been a leader in the fitness industry since 2003. Chad is a regular fitness and wellness guest expert for local and national media. He was the host of the talk radio show, "Be Fit…For Life", and has been featured on over 20 podcasts. Chad helps his clients stop constantly starting over and instead find long-term fitness success. His goal is to help you find a plan that you can use immediately.
During this podcast we discuss:
How to win the fight against your excuses
How to change your mindset "you are too busy" to exercise
If you're new to working out, how to get started
How to beat your excuses
How to make fitness a priority, even when life changes
Although we all know we need to make fitness a priority, how to actually do it
Food choices and how he suggests that his clients eat
He says that it's a myth that age is something that stops us. The more you move the longer you can keep yourself young. It's even more important as you age to make fitness a priority.
Change is inevitable. Failure is inevitable. So what? Failure doesn't have to define us. It's what you do next. The yo-yo pattern happens because we are attracted to instant gratification. We want to try to get as fit as fast as possible, which leads to temporary success. We have to figure out what fits best in our life. What are you going to do to get back on track?
In today's podcast he offers strategies for overcoming excuses as well as a link to a free copy of his book: Make Fitness A Priority: 30 Tips to Elevate Your Life Through Fitness Kindle Edition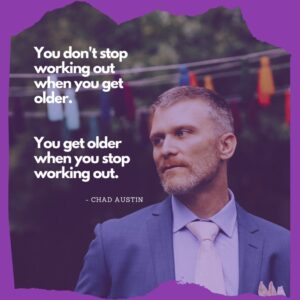 Links:
Book Series on Amazon
Free Kindle copy of his book
Priority Fitness Website
Chad's library of on-demand classes
Follow Chad on Facebook and Instagram