Last week I ran the 2019 Hop for Hope 5K. This is getting to be a tradition. It's April 2019 and I ran my first race of the year. I've run this race a few times which I wrote about last year. It also seems to be a tradition that I'm not feeling prepared for running the race. I suspect that's because it's April and early spring in Ohio.
Quick recap of the race. I would say fewer people signed up for the race this year. This could be due to a few other 5/10 Ks going on in the area on the same day. It was a beautiful spring day with perfect temperatures for running, about 50 degrees Fahrenheit.  It was sunny and dry. Really, it doesn't get much better than that, does it?
The Easter Bunny was on site and after the race, the kids had an Easter egg hunt. They also put some golden eggs along the course for adults to win prizes. I knew I would never spot a golden egg because I was too far back.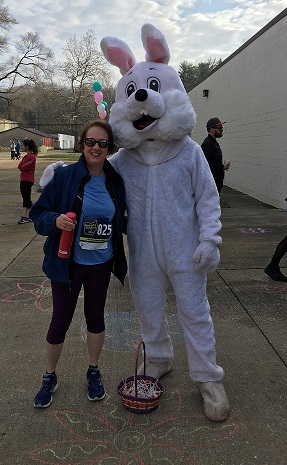 Despite not having run 3 miles in a long time, I managed to run the 5K without having to walk or stop for a rest. I think this is where experience comes in. I knew I had run this before and managed to pace myself enough to finish the race running. I'll be returning to my Couch to 5K app now and continue with my training.
I did some stretching before and after the race, trying to avoid any problems with my ankle or my piriformis muscle. That must have worked because I didn't have pain the next day, which is a sign of success.
We got a great long-sleeved shirt this year and of course everyone who ran received a medal. Their rabbit logo is getting pretty hip these days.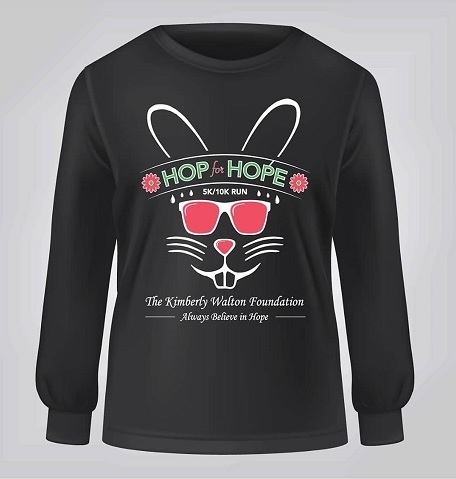 I enjoy running and I like participating in races because they're fun. There's something about having official times that also spurs me on to try harder. On the other hand, running has caused me the most problems with my body and I need to pay attention to that.
So, how did I do? I ran the race at about the same speed as last year. I know that because Strava told me. Don't you love technology? I was uncertain last year about how I'd do, much like this year, so I'm glad I stayed at about the same spot. They didn't do age group winners this year but a quick look at the results list showed me I would have been second or third in my age group. Nothing to get excited about. Of course, I didn't run it thinking I'd be fast.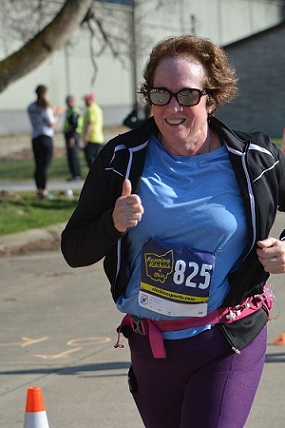 I will continue to cross train with strength training and including yoga in the mix too. Strengthening muscles and tendons is important and working on flexibility and balance is critical. I'm going to also continue to run using my Couch to 5K app. I'm on week 5 so about half way through. I'll keep you posted on how this goes. It's so much more enjoyable to be able to run outside and get off the treadmill or an indoor track.
I'm already thinking about signing up for another 5K in a couple of weeks. What's your plan for the next few months?