On July 2, 2017 Jill and I ran our first 10K together in downtown Cleveland. The 6.2 miles was the longest distance race I had ever done. Jill had done a 1oK once before.
The course was flat, right on Lake Erie — Hot weather on an out and back run. The race was called YMCA Firecracker because it was on 4th of July weekend.
We got up to Cleveland early in the cool morning hours so we'd be there in plenty of time. Nice that the parking meters in downtown were turned off, so that we didn't have to pay to to park.
We stood in line to pick up our bibs — of course the music was blaring really loudly, aimed right to the registration desk. I had to say "what??!! What?!" a couple of times to every question. (Simple questions too, like "Name?" "What size T-shirt did you order?")
Luckily the sun was coming out – I really didn't want to run in the rain. But it wasn't hot yet either. A good group of folks showed up, many wearing red, white and blue. The YMCA was the sponsor. Pre-race bathrooms were at the Y's fitness facility. The racers filed inside to use the bathrooms before the race started.
I could tell the race announcer was experienced. He wasn't the bit nervous on the microphone.
I only saw a couple of people dressed up in funny costumes – like the Statue of Liberty. I wondered how can she run in that toga thing? And holding her hand up in the air?
A few people were getting pictures. Some were nervous, but most were joking around and happy. Several people ran with their dogs.
The race started and I skootched to the back. I have a bad habit of running the first mile too fast in the excitement of the race and then my heart rate goes way up… making me too tired toward the end of the race. Of course, I did that again.
Turned the first corner and started down hill toward the Cleveland Browns stadium. I couldn't help noticing one very tall runner who was in sweat pants. "Wow, he's going to be hot" went thru my mind.
I tried to keep a happy face in my mind and not think too hard about the upcoming water station. It is supposed to be a mile 2, that's what I overheard someone say before the race started. The first mile went by quickly, and I was near the back of the pack.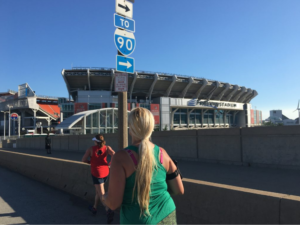 Back of the pack is actually A-OK with me. I've never been super fast (or even medium fast) but I do have endurance. This 10K race felt like a test of all of my training in April, May and June. (A 10K is 6.2 miles, but 10K sounds so much further in my head!)
Where's that water station?!? Finally. It seemed a bit further than 2 miles to me, but it could be I was not pacing myself.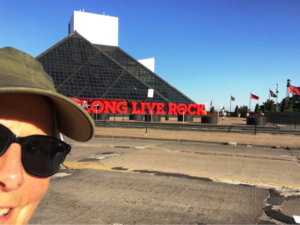 The course was on perfect blacktop asphalt on the bike path road. It's also called Marginal Road and it's right next to Burke Lakefront Airport. Great views of Lake Erie too.The next section was an out and back. Meaning that we were running on the left side and had the other runners coming back running on the right. Kinda cool to see the faster runners coming thru, but then they may or may not think it's cool to see the slower runners. I was looking for Jill – she's much faster than I am.
I got my camera ready and just after she passed me, she turned around and I snapped this photo of her!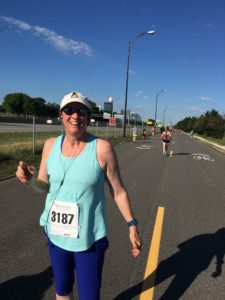 As I got closer to the end of the out and back, I saw the statue of liberty – still going strong in her outfit to memorialize the holiday. Gotta hand it to her. I was wishing I had worn something a little more red, white and blue.
Just after the end of the 3rd mile I was ready for water again. (Next time I'm bringing my own bottle – thoughts went thru my head.) The second water station had lots of cups of water poured, they did a good job, but I was wishing there had been 3 stations for 6 miles.
Funny. When I run at home, I practice by going that far. But I don't even carry water. I think it was all in my head.
We ran back on the other side of the expressway on the other Marginal Road. It was kind of exciting to see the big buildings of Cleveland get closer and closer. The poor little dog that was running with her "mom" was given a break when she got passed over to "dad". The dog mom took off. I think the dog was holding her back!
Once I saw the sign for mile 5 I thought to myself "Only one mile left, give it the gas." So I pushed it. Alot. Well, alot for me anyway.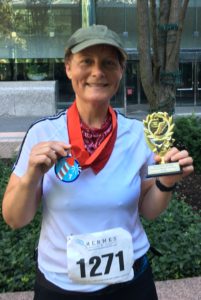 Does it count to be excited for winning when there wasn't anyone else in my age in the run?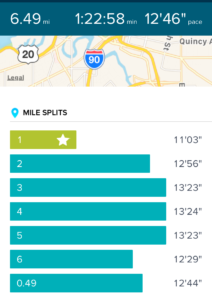 Obviously I didn't shut off my watch as quickly as I should have. You can see I went out fast, but also had a very consistent pace at 3, 4, 5 with a negative split on the last one.
Here's the official link to my Race Results: where I finished 175 in 1:21:30.0 at a 12:47 per mile pace.