I'm doing the MS150 bike ride this weekend!
Before I got fit, if you had told me that I'd be comfortable riding 150 miles on a bicycle, I would have thought you were crazy.
The first ride I took with the team I eventually joined, I remember really wanting to turn around before we had even ridden 4 miles. I was riding a hybrid-style bike with big heavy tires and a wide puffy seat. I thought it would be comfortable, but I now know that a street bike with skinny tires and a tiny seat, that fits my sit bones, is way more comfortable and easier to ride.
It all started in winter of 2011 when I tried spinning at my gym. I signed up to do the 150-mile bike ride. This year is my 7th year in a row. I ride it every year as a fundraiser for MS research with my "Skiers On Bikes" team.
Besides being a good way for me to stay in shape, build some wonderful friendships and enjoy a hobby that has become my favorite spare time activity, I've raised lots of money for a very important cause.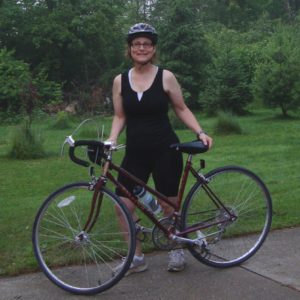 My First Year
I knew I couldn't make it all 150 miles on that hybrid bike, so I looked for an old street bike at yard sales. I found a Raleigh Record and bought it for $35. We put new tubes and tires into it.
That first year it took me all day for the first half of 75 miles. It was hot, hot, hot and I really wasn't sure I was going to be able to complete it.
The second day it rained. (NO, actually it poured.) But I fell in love with bike riding. Since then I've since invested in a different bike, some additional equipment and have pedaled thousands of miles.
Since then, all that bike riding has taught me about fueling my body. Riding lots of training rides has helped.
Here are a few things I've learned in training for this 150 mile bike ride for 7 years in a row:
Weather:
You can't control the weather, so quit worrying about it. I try to plan for bad weather, but enjoy the good weather! (Wear sun screen and sunglasses. Bring a raincoat.)
You can enjoy the bad weather too because it makes you appreciate the good weather more! (Wear a baseball cap to keep the rain out of your eyes.)
When there is snow and ice everywhere, don't try to ride outside! Go skiing instead to enjoy the weather!
Food:
Potlucks are fun, but it is really easy to overeat.
Don't bring chocolate covered energy bars on a hot bike ride. They melt.
Pack something that keeps (like nuts or packaged gels) so you have extra energy with you if you really need it.
Two water bottles are better than one.
Other Riders:
Don't compare yourself to the other riders. Everyone else has their story, their training history, their injuries and their motivation for riding.
Don't leave anyone behind. It's important to build the confidence of new riders so they will join you again next time. And sometimes YOU will be the slow rider.
Make it more fun by riding with other people. This keeps me coming back for more. And I'll show up even when I've had a bad day because I already told someone else I was riding.
Be vocal so people know what you're doing. Ring a bell to alert people. Watch out for the other guy but make your own decisions in crossing roads, merging and deciding where to stop.
Equipment:
Bicycle pants with a padded butt are worth the money.
Learning how to fix a flat tire is a very good thing. And it's even better when you can help someone else.
It takes practice and time to build the muscle memory so that riding a bike is more automatic. I'm talking about the toe clips that attach my sandals to the pedals, two hand breaks on the handlebars and left/right gear shifters for the front and rear gears.
Toe clips give you A LOT more power. If you aren't comfortable with biking shoes being locked onto the pedals, baskets that you slip your toes into also help and are quicker to release.
Flashing lights helps drivers and other bikes see you.
Storage is good. I have a handlebar pack for a raincoat and a light, a seat pack for a spare tube, tools and a CO2 cartridge, as well as a fanny pack for my epipen/phone and cash.
Saturday morning (today), we leave the parking lot around 6:30 am when the sun comes up, ride 75 miles and I expect we'll get to Ashland University around 2 pm or so. Then Sunday morning we'll do the same ride in reverse.
I promis to write a re-cap next week with photos to let you know how it went. – Chris
Leave a comment or question below.