Do you ever find that the motivation is lagging to keep up with your workouts?
When motivation lags, I try really hard not to slide backwards with my fitness.
This time of year always does it to me. I've discovered it is a combination of things.
Partly because race season is in my rear view mirror and spring is feeling pretty far away.
Partly because rainy weather and cooler temperatures always seems to bring on a head cold.
And partly because of the dark mornings and darker evenings of short sunshine days.
Not to mention the time change and the havoc it reeks on my sleep patterns.
When Motivation Lags
Here are three ways that I have found work to help me to maintain my fitness, even when my motivation for the big workouts is lagging.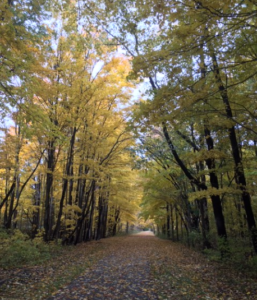 1) Walking – I try to look for the beauty in nature and go for a long walk several times a week during lunch time. While walking doesn't necessarily raise my heart rate into cardio levels or more, getting the legs moving helps to burn some calories and release some stress. It doesn't bother my ankles or require an immediate shower afterwards. I can bring the dog if I want. Even when motivation lags, I find I feel better when I get back from a good walk. While I like music when I run, a good audio book is my go to when I'm walking.
2) Soup – During this time of year, I fall back into old habits. At least a couple nights a week, I try to focus on vegetables for dinner. A good hearty soup that is patterned after the V-9 soup on Aladdin's menu – one of my favorite restaurants in town. It has nine different vegetables in it and I make mine with what is in the refrigerator. My V-9 usually is comprised of cabbage, spinach, carrots, celery, onions, green/red/yellow peppers, brocolli, cauliflower, mushrooms and squash. I also refer to this as "zero point soup", which a hold over from when I was working the Weight Watchers points and the vegetables became free. I try to skip potatoes. I find that soup also helps me get more water, since it's not as hot, I'm not as thirsty, but I will get more liquid if I've got the soup. The trick is to keep the rice and pasta out of the soup. And don't serve with a side of bread or chase it with a pile of popcorn. For best results, focus on the vegetables and don't cook it to death. Mushy vegetables aren't as yummy and you don't want to cook the vitamins right out of them!
3) Basics – When motivation is lacking, it is tough to do strenuous exercise. And with sinus head cold, fore me it's not even a good idea. That said, I don't want to lose all of the fitness I've developed over the summer or the recovery I've made from the physical therapy exercises. To keep a certain level of fitness, I make sure that I do the prerequisite monster walks, heel raises, piriformis and calf foam rolling, walking bridges and a variety of other stretching/yoga type moves every single day with no excuses. Getting my basic routine out of the way every morning and evening will keep me from trouble when I'm ready to go to it again.
I know from my six plus years of maintaining my weight loss, that I can't keep this up very long. Actually I could keep this up for a long time, but it won't result in maintaining. It will result in a weight gain and a muscle loss.
Doing these three things do not net me the endorphins of a good workout or burn enough calories to stop the winter weight from creeping back on. But they help me hold things together until my head cold clears up and I can get myself through the disruption of my sleep pattern with the change over from daylight savings time.
Using these three tools gets me through a tough time without too much back sliding.
Soon, I'll be back at the gym, lifting weights to build strength, working out with group exercise classes and sweating up a storm. But until I'm ready for that I'm focused on walking, soup and the basics.
How about you? How do you get through it when your mojo slips? Do you have a fallback routine that you use to adjust to the time change or when you have a head cold? Let me know! Either share publicly as a comment here or on our social media… or if you're shy, just send me a private email Chris@becomingelli.com.
I'm looking forward to learning some new tactics and strategies from others in the Becoming Elli Community of fit women over 50. Thanks in advance. (or should I put TIA? I always have to look those initials up to remember what they mean. ha ha.) – Chris