Recently I ran intervals on the treadmill in my hotel's fitness center. I forced myself to go down to the room and do something. When I got there, I decided I didn't really have the energy to use the dumbbells and decided to just go with the treadmill. I remembered a recent conversation where I said I used to do a lot of interval training on the treadmill over the winter.
I've been staying in a hotel over the holidays dealing with some family problems so it's been a stressful time. I know that taking care of myself is important. This hotel has a nice fitness center and it's a shame not to take advantage of it.
I was the only person in the room for the whole time that I ran my intervals. It's a relief not to have to worry about masks and having to talk to people or even just listen to them. Being an introvert means that part of taking care of myself is giving myself some lone time.
Running Intervals on the Treadmill
I haven't used a treadmill in about a year so it required some mental adjustment. Running inside is certainly different than running outside.
I set the workout to intervals and then selected the pace for the fast and slow parts. Because I just wanted to get in a workout, I didn't choose anything too strenuous. Instead, I went with something I knew I could do for the whole time without being too challenged.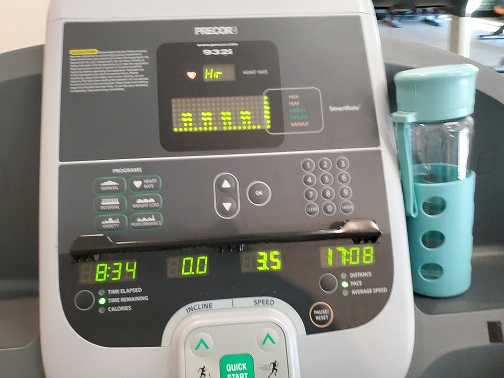 I listened to music with my Aftershokz headphones. They never fail to make me happy. I decided to listen to music that I just like rather than worrying about a running playlist. The important thing was to make this half hour be as stress-free as possible.
I used my heart rate chest strap so I could see my heart rate reflecting the intervals.
I enjoyed my time running intervals on the treadmill. I'd forgotten that this can be a satisfying way to get in a workout.
Is there a workout that you've forgotten about and recently retried? Let me know. I'd love to hear from you.