Yesterday was the perfect weather for a long bike ride and the NEOC event on Sept 15 2019 put on by the Out-Spokin' Wheelman didn't disappoint!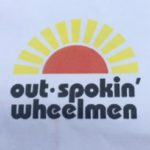 My biggest challenge of the day was trying to not overindulge in the cookie table. You see, I had forgotten what the initials NEOC stood for – I thought it was Northeast Ohio Century, but when I asked one of the organizers they jogged my memory. The initials stand for Northeast Ohio Cookie ride.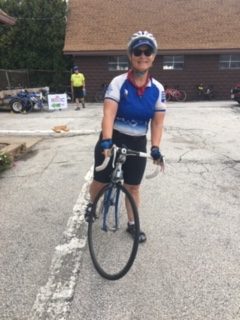 This was their 46th year of putting on this ride. Wow! I'm amazed I never heard of it before.
PRE-RIDE:
The ride was held at the Trumbull County Fairgrounds which is about an hour from where I live now. I left around 6 am. I was rewarded for getting up before dawn with the most beautiful sunrise! The weather was chilly, so I brought my bright zipper sweatshirt for the early part of the ride.
The people at the check-in registration table couldn't have been nicer! Friendly and organized, they handed me a giant bag of "goodies." I preregistered on line for only $20 and day of registration was still only $20. I have to say I was amazed at all the support, food and prizes that the $20 provided!

ROUTE:
Route maps with both the turn-by-turn directions and a mile marker route image were perfect. The turn-by-turn directions were on the back of the map and stacked so it was easy to attach to the bike so you knew exactly where you were. The ride featured different choices – 5 loops of varying mileage, surfaces and degree of difficulty. All the routes started and finished at the fairgrounds. I think all 5 routes were flat, although I only rode three of them. One was the Western Reserve Greenway Hike and Bike trail which was straight and flat, surrounded by beautiful trees and greenery. (My bet is this would be a gorgeous fall ride route!)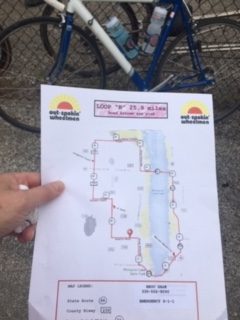 If you are a fast rider, or at least faster than me, this is the perfect ride to get a century. If you are a cookie lover, this is also a great ride! Regardless, I had a really great day of riding. This year, and maybe many other years, the ride was all around my hometown of Cortland, Ohio and Mosquito Lake Reservoir.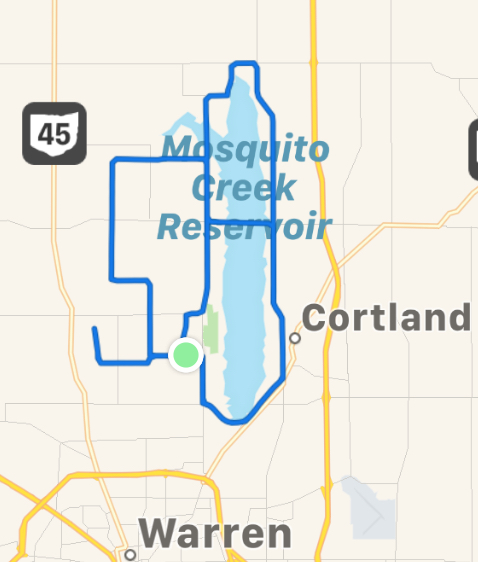 There are some areas that were covered twice. My total mileage for the day was 63 miles. While it wasn't a century ride, it was a metric century. A century ride is a 100 mile ride. A metric century ride is 100 Kilometers or about 62 miles.  I had originally thought I would try 100 miles but my pace is more like 10 or 11 miles per hour, which means a very very long day. I think we still did about 6 hours of moving to get the 60+ miles in, so I feel like I got plenty of enjoyment from the ride!
FOOD:
A large table full of homemade cookies. Oatmeal raison, peanut butter with Hershey kisses, date bars, coconut flaked, chocolate chip! It reminded me of some of the weddings I have been to in western PA and eastern Ohio. Lunch was home made meatballs with pasta, salad and choice of lunch meats and cheeses with rolls for sandwiches. While it wasn't overly healthy, it sure was delicious!
In between routes, they had water and Gatorade in large cooler jugs for filling water bottles.  I enjoyed a coffee as well during one of the breaks – delicious. It was a big spread!
WEATHER:
The weather was around high 70's low 80's but overcast. That made for the perfect ride day. I had put sunscreen on before riding early morning, but the sun never got to that hot cooking feeling like sometimes happens in July and August. Light breeze at one point made me realize we might have a slight headwind, but it never was very noticeable. Around 2:15 or 2:30 we were on our 3rd route and it started sprinkling, with a bit of drizzle. Rather than get another 10 miles out, we decided to cut short and head back to the fairgrounds. Of course it stopped after we started heading back, but I didn't have any rain gear with me.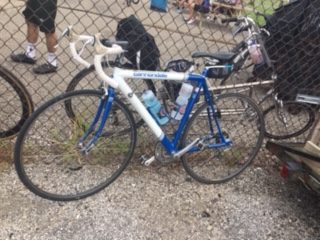 AFTER:
Since this ride was located so close to my parents', I stopped over for a quick "hi, how are you" drop-in visit. That also added to fun of the day!
Next year is going to be their 47th year and will be held 9/20/20. Although it's hard to plan a year out, I think this ride is going on the calendar for next year!

Do you have a favorite event that you've participated in this year? Tell me about it! Leave a message in the comments below or call our voice mail line at 330-970-6662. You can also leave a post on our Facebook page.