October is a month that I traditionally have a tough time keeping a fitness mindset.

In years past, at the end of September, I participated in the Akron Marathon in a relay team or by running the half (2015 & 16 the team; 2017 & 2018 the half.) After that goal was achieved and October arrived, I was always felt a let down from goal achievement and a bit like taking a break.

I haven't done a running race since the 2018 half, but still find that October's weather tends to make me feel like staying inside and less like enjoying outdoor fitness activities.
Having Peanut (my dog) really helps me to get out and walk. This weekend I was looking forward to the color changes in the trees. While it has gotten colder, we haven't had a frost yet which will help the reds, oranges and yellows come out. The trees have started to change.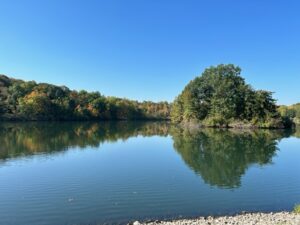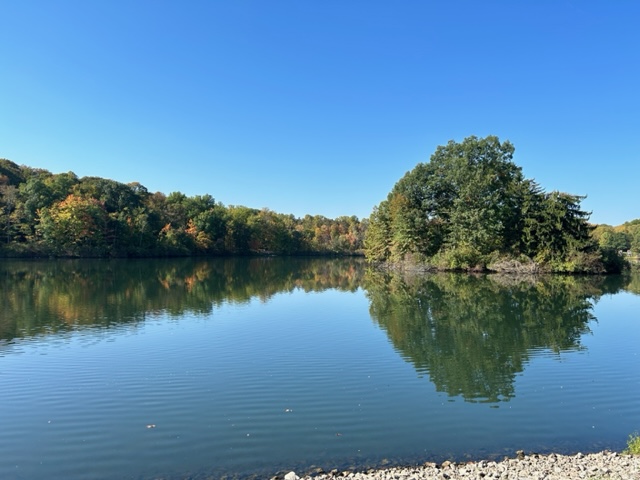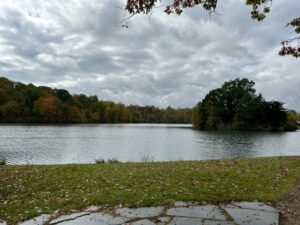 When the overcast and clouds reflects in the lake, it kinda dampens the light. It's hard to even see the trees changing color. I am going to try to find a sunny day to recapture this photo. Hudson Springs Park is one of my favorite places to walk with Peanut. Yesterday when I was there, a group of dog owners had a meet up in one of the pavilions. It was a group of corgi dogs and maybe 50 different ones. So cute. I didn't get any photos of them, but I should have!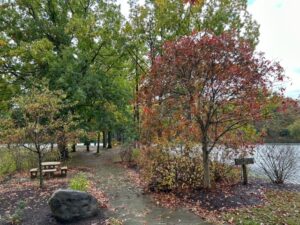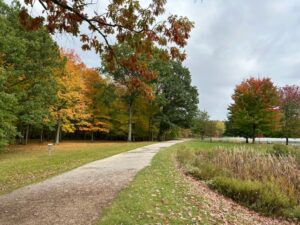 You can see that there are parts of Hudson Springs Park where the trees have changed.Meanwhile, I'm hoping the weather holds and I can keep looking for outdoor activities that fit into the brief moments of good weather. Good weather helps me keep the fitness mindset.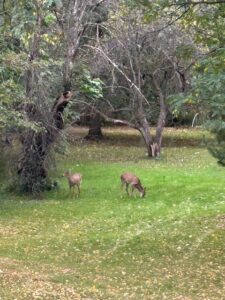 The deer don't have anything to do with fitness, just the change of seasons. I rarely see them in my yard unless it's apple season.
I really can't count on good weather during the next few weeks, so this week my plan is to start using my treadmill more and carve out a consistent time to go to the gym,
What do you do to keep your fitness mindset when the weather changes?