Download | Play in New Window
Please Subscribe: Apple Podcasts  (iTunes) | Google Podcasts | Android-Google Play | Stitcher | Player FM | Castbox | Tunein | Spotify | RSS
In episode 43, Chris and Jill talk with Ellen Wisbar, a CPA who started building her running distance over the past year.
Ellen Wisbar grew up on the west side of Cleveland and has always been interested in sports. She played volleyball and was on the track team in high school. At Miami University she moved on to intramural sports and graduated in 1985 with a Bachelors degree in Accounting. After graduation, Ellen stayed active by sustaining a gym membership at various locations in Cleveland, running very casually, group exercise classes, skiing, biking, and participating in things like Corporate Challenge at work. Ellen is a CPA so by nature her job is pretty sedentary. At this point, she work in the legal department, which requires some travel but no tax season hours anymore.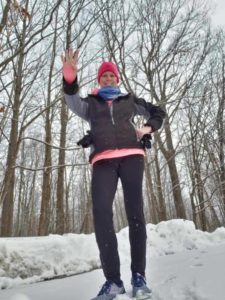 Last summer she completed a 5k in June for the first time ever without walking. After telling a friend at LifeCenter about it, she invited Ellen to join a running group called Moms Run This Town. The informal running group schedules coffee runs each week, which helped her start running more consistently. Soon she was working to become a distance runner.
She ran the 10K Great Pumpkin Run in Akron last October, the Cleveland Half Marathon this past May and then the Akron Half in September.
In this episode, they discuss:
How she got motivated
How she changed from a casual running into a distance runner
Why having multiple race goals is a good idea
How she got started running and built up her mileage to become a distance runner
What she brings to eat and fuel during the race
Hydration vest vs water stations
Comparing different races, what makes for a favorite race
Why she felt this half marathon was more fun than the first time she ran a half.
Her plans for the future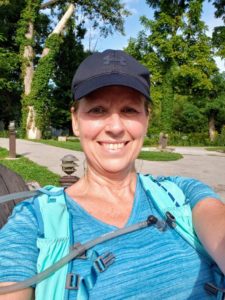 Links to things mentioned in this podcast:
Stats for the 2019 Akron Children's Hospital Marathon, Half Marathon and Relay
100,000 spectators (estimated by the Akron Beacon Journal)
Runners (from the Akron Marathon website)

963 marathon finishers: 352 women and 61 women over 50
3223 half marathon finishers:1809 women and 305 women over 50
895 Relay Marathon Teams (5 members, so 4536 runners, although some teams have people run 2 legs or run a leg while running the half/full) There were 154 Women Only teams and 19 Women Masters teams (over 40)