Please Subscribe: Apple Podcasts  (iTunes) | Amazon | Google Podcasts | Android-Google Play | Stitcher | Player FM | Castbox | Tunein | Spotify | RSS
Welcome to the Fit Strong Women over 50 podcast where the co-hosts from the Becoming Elli Community, Jill McCauslin and Chris Brown, interview experts and share their insights about losing weight, keeping it off, working out and becoming fit and strong. Hear from others who are making it work, become inspired and motivated.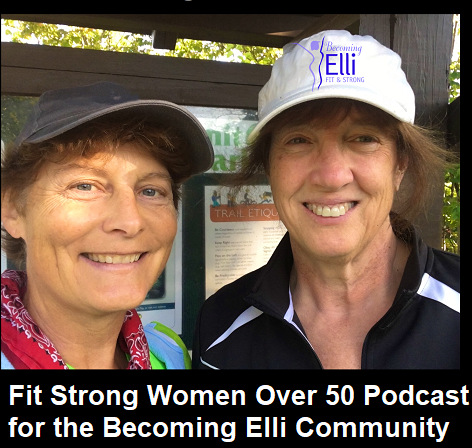 Click here to find the most recent podcast.
Twice a month we share tips, talk with experts, and interview women who are working to become fit and strong.
There are lots of ways to subscribe to our podcast:
With an iPhone, it's easy to subscribe:
To listen on your phone or tablet:



If you don't want to listen on your phone, here are some other choices:
Get an email when we launch a new episode. This way you can read all about the podcast episode, look at the photos of the person we are interviewing, find out what tips we will be offering in this episode… all before you click play. It's an easy way to keep up with our blog articles and specials offers as well.
Use the RSS feed to listen http://becomingelli.libsyn.com/rss.
If you just want to listen, before you subscribe, click here.
There are many many other apps for playing podcasts and subscribing. Here are some you may be familiar with:
Subscribe: Apple Podcasts  (iTunes) | Google Podcasts | Android-Google Play | Stitcher | Player FM | Castbox | Tune In | Spotify | Radio Public | Breaker | Pocket Casts | RSS